1990's Dolce & Gabbana Black & White Logo Monogram Jumpsuit Bodysuit Leggings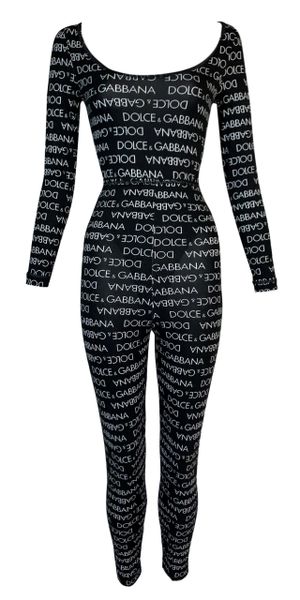 1990's Dolce & Gabbana Black & White Logo Monogram Jumpsuit Bodysuit Leggings
DESIGNER: 1990's Dolce & Gabbana jumpsuit consisting of a bodysuit and leggings
Please contact for more information and/or photos.
CONDITION: Excellent- these are actually unworn- you can tell by feel and smell- the only sign of being touched is the fabric tag was cut out of the bodysuit. Flawless!
MATERIAL: Cotton & Spandex
COUNTRY MADE: Italy
SIZE: 44- runs very small but has good stretch
MEASUREMENTS; provided as a courtesy only- not a guarantee of fit: 
BODYSUIT: Chest: 28-35", Waist: 23-31", Torso: 26-36", Arms from shoulder to end: 22.5"
LEGGINGS: Waist: 24-32", Hips: 29-42", Rise: 14-18", Inseam: 26-31"