1991 Dolce & Gabbana Pin-Up Ivory Gold Chain Strap Bodycon Wiggle Dress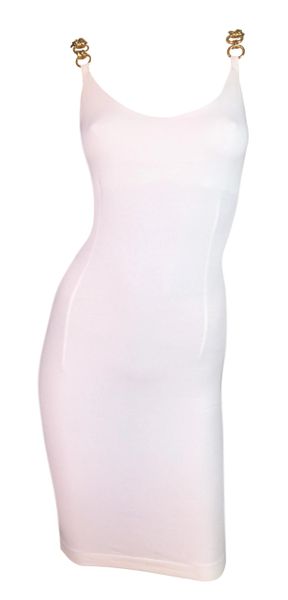 1991 Dolce & Gabbana Pin-Up Ivory Gold Chain Strap Bodycon Wiggle Dress
DESIGNER: 1991 Dolce & Gabbana
Please contact for more information and/or photos.
CONDITION: Good- is actually unworn with tags but we hand washed the dress as there was light handling wear just from being light colored and almost 30 years old- there are extremely tiny/faint marks- nothing others will see! Please see last 2 photos. 
FABRIC: Cotton & Spandex
COUNTRY MADE: Italy
SIZE: 42- very small with stretch!
MEASUREMENTS; provided as a courtesy only- not a guarantee of fit: 
Chest: 27-38", Waist: 22-32", Hips: 30-44", Length: 34.5"