1993 Gianni Versace Sheer Stretch Silk Black & White Striped Wiggle Dress 44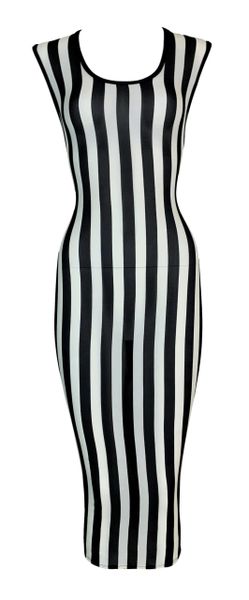 1993 Gianni Versace Sheer Stretch Silk Black & White Striped Wiggle Dress 44
DESIGNER: 1993 Gianni Versace
Please contact for more information and/or photos.
CONDITION: Good-only imperfection is an extremely tiny and faint mark near the neck- please see last photo. 
FABRIC: Silk & Spandex
COUNTRY MADE: Italy
SIZE: Size tag removed- we believe it is a 44 as we have one in size 42 and its slightly smaller
MEASUREMENTS; provided as a courtesy only- not a guarantee of fit:
Chest: 34-42", Waist: 27-37", Hips: 32-46", Length: 49.5"