C. 1995 Chanel Ballerina Sheer Black Mesh Bustier Dress w/ Tulle & Bows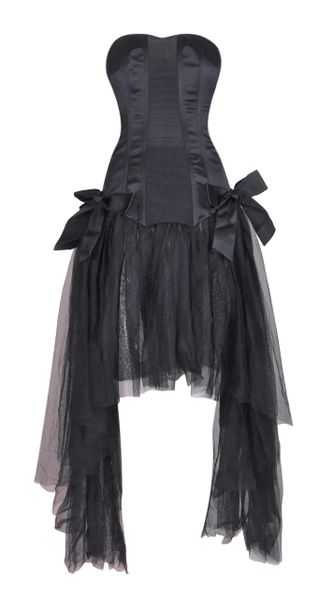 C. 1995 Chanel Ballerina Sheer Black Mesh Bustier Dress w/ Tulle & Bows
DESIGNER: Circa 1995 Chanel by Karl Lagerfeld- has a boutique label but it is a couture handmade piece as you can see from the photo of the inner bodice. The center of the bustier all the way down is a sheer mesh- crazy sexy!
Please contact for more information and/or photos.
CONDITION: Good- no holes or stains!
COUNTRY MADE: France
FABRIC: Silk & Nylon
SIZE: French 36
MEASUREMENTS; provided as a courtesy only- not a guarantee of fit: 
Chest: 29" from seam to seam not including bust or stretch of the nylon fabric down the front, Waist: 24", Hips: open, Length: 28" down the front & 45" down the sides