C. F/W 2008 Christian Dior John Galliano Haute Couture Gold Nude Pant Suit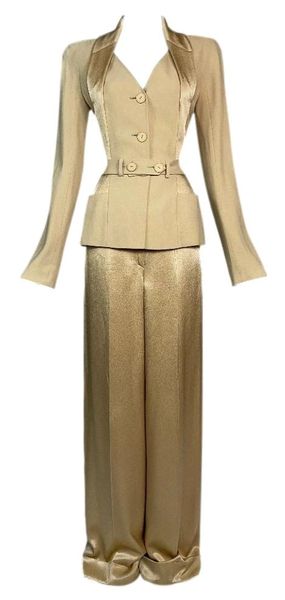 C. F/W 2008 Christian Dior John Galliano Haute Couture Gold Nude Pant Suit
DESIGNER: Circa F/W 2008 Christian Dior Haute Couture- inner fabric/year labels are not present so we are estimating the year based on the style. 
Please contact us for more images and/or information.
CONDITION: Good- Down the right sleeve it is slightly lighter due to the customer hanging the jacket where sunlight hit the side, see last photo, its not something noticed when worn. 
FABRIC: No tag- feels like Galliano's classic acetate & viscose blend
COUNTRY: France
SIZE: None- its haute couture- please review measurements
MEASUREMENTS; provided as a courtesy only- not a guarantee of fit:
JACKET: Chest: 37", Waist: 29", Length: 24 3/4", Shoulder to shoulder: 18", Arms from shoulder to end: 27"
PANTS: Waist: 32", Hips: 40-48", Rise: 10", Inseam: 35.5", Hem Circumference: 24"