S/S 1993 Chantal Thomass Runway Black Lace Bodysuit & Pink Lace Print Cape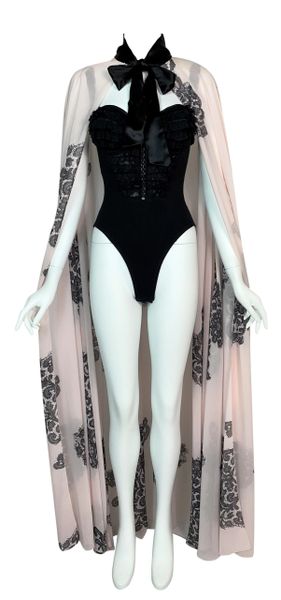 S/S 1993 Chantal Thomass Runway Black Lace Bodysuit & Pink Lace Print Cape
DESIGNER: S/S 1993 Chantal Thomass- bodysuit was shown on the runway- cape is a very rare piece!
Please contact us for more images and/or information.
CONDITION: Excellent
FABRIC: Cape is unknown- bodysuit is a cotton/spandex blend
COUNTRY: France
SIZE: 34B but fits larger like a C cup
MEASUREMENTS; provided as a courtesy only- not a guarantee of fit:
BODYSUIT: Chest: 28-40", Waist: 23-35", Torso: 28-42"
CAPE: 65" long