S/S 1997 Gucci Tom Ford Black Backless Gold Chain Swimsuit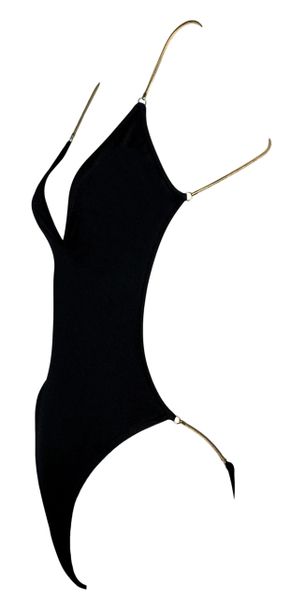 S/S 1997 Gucci Tom Ford Black Backless Gold Chain Swimsuit
DESIGNER: S/S 1997 Gucci by Tom Ford
Please contact us for more images or information
CONDITION: Good- there are no flaws- it looks possibly unworn, but the elastic just around the leg holes is harder and if you stretch it too much it may not stretch all the way back. Happens to old elastic sometimes. 
FABRIC: Nylon & Spandex
COUNTRY: Italy
SIZE: XS but stretches so can fit larger
MEASUREMENTS; provided as a courtesy only- not a guarantee of fit: 
Chest: open, Low Waist: 26-34", Torso: 31-39"