S/S 2001 Gianni Versace Plunging Sheer Black Wrap Bodysuit Mini Dress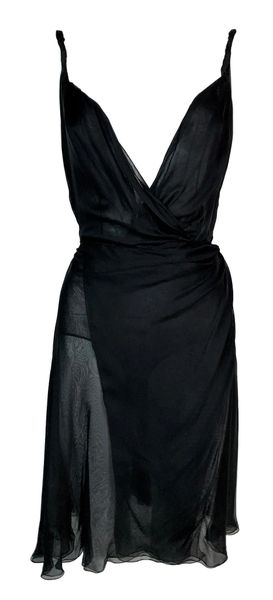 S/S 2001 Gianni Versace Plunging Sheer Black Wrap Bodysuit Mini Dress
DESIGNER: S/S 2001 Gianni Versace
Please contact for more information and/or photos.
CONDITION: Good- Dress is flawless, tiny repair to mesh of crotch of bodysuit- minor and not seen. Please see last photo. 
MATERIAL: Silk-Cotton-Nylon-Spandex
COUNTRY MADE: Italy
SIZE: 42
MEASUREMENTS; provided as a courtesy only- not a guarantee of fit: 
Chest: 33-36", Waist: 26-29", Hips: open, Length: 36.5", Torso of bodysuit: 30-34"