S/S 1992 Atelier Versace by Gianni Versace Strapless Bustier Mini Dress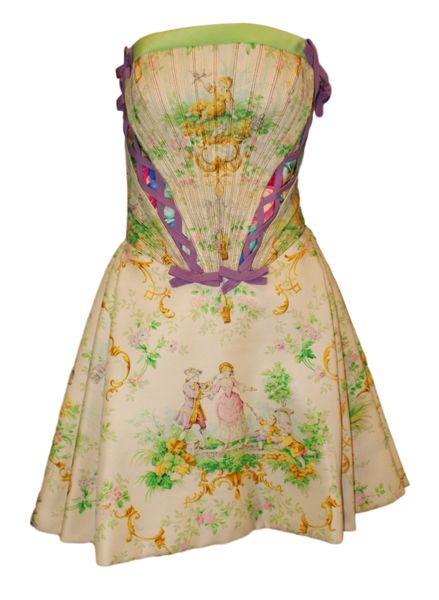 S/S 1992 Atelier Versace by Gianni Versace Strapless Bustier Mini Dress
DESIGNER: 1992 S/S Atelier Versace by Gianni Versace
Please contact for more information and/or photos.
CONDITION: Good- to just look at the dress it looks pristine but upon very close inspection there is a tiny faint mark by the hem and  the smallest and faintest area of discoloration inside on the lining of the top. 
MATERIAL: Silk & Nylon- has a thick tulle layer in the skirt to make it firm and flare out.
COUNTRY MADE: Italy
SIZE: Unknown- fits like an xs or 0/2. It was too small for our mannequin which is why it isn't fitting perfectly and couldn't be closed.
MEASUREMENTS; provided as a courtesy only- not a guarantee of fit: 
Chest: 28" from underarm to underarm, Waist: 24", Hips: open, Length from underarm to hem: 27".