Vintage S/S 1992 Dolce & Gabbana Sheer Baby Pink Silk Ruffle Dress Jacket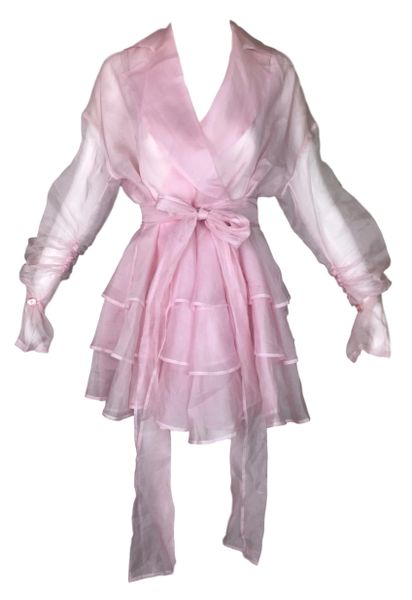 Vintage S/S 1992 Dolce & Gabbana Sheer Baby Pink Silk Ruffle Dress Jacket
DESIGNER: S/S 1992 Dolce & Gabbana- exact same dress featured  on Elle.com's New York Fashion Week special on 9-6-2012.
Please contact for more information and/or photos.
CONDITION: Good- the large Dolce & Gabbana label was removed by the owner as it showed through which left 4 pin holes in the lining (not visible on the outside). The other Dolce & Gabbana tags are still attached.  There is an extremely faint mark and tiny pin hole by the hem- both so minor they will not be seen by others. Please see photos. 
MATERIAL: Silk
COUNTRY MADE: Italy
SIZE: 42- meant to be worn loose with the belt tied. 
MEASUREMENTS; provided as a courtesy only- not a guarantee of fit: 
Chest: 44", Waist: 40", Hips: open, Length: 32", Arms from shoulder to cuff: 22.5"