S/S 1995 Dolce & Gabbana Sheer White Knit High Waist Pants & Crop Top Jumpsuit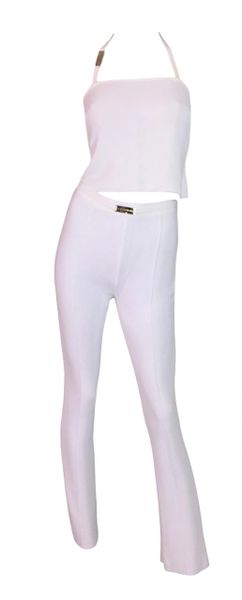 S/S 1995 Dolce & Gabbana Sheer White Knit High Waist Pants & Crop Top Jumpsuit
DESIGNER: S/S 1995 Dolce & Gabbana
Please contact for more information and/or photos.
CONDITION: Good- very minor wear, labels and tags removed, still has Dolce & Gabbana hardware. 
COUNTRY MADE: Italy
FABRIC: Unknown, likely a stretchy rayon blend.
SIZE: Tag removed, fits XS to M, please review measurements
MEASUREMENTS; provided as a courtesy only- not a guarantee of fit: 
TOP: Chest: 26-36", Waist: 31-39", Length: 18.5" from neck to hem 
PANTS: Waist: 24-30", Hips: 38-50", Rise: 11 3/4", Inseam: 32", Hem Circumference: 17"