S/S 1997 Gucci by Tom Ford Runway Red Velvet Chain Strap Backless Dress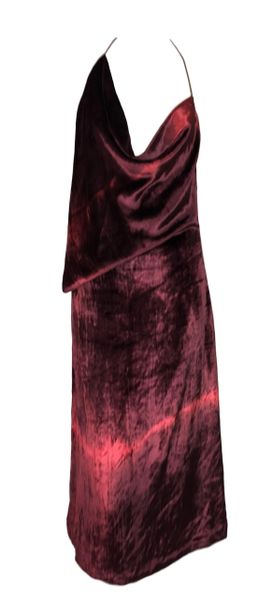 S/S 1997 Gucci by Tom Ford Runway Red Velvet Chain Strap Backless Dress
DESIGNER: S/S 1997 Gucci by Tom Ford Runway- second photo is Kate Moss wearing the dress in Harpers Bazaar
Please contact for more information and/or photos.
CONDITION: Good- The original owner had a strap removed for a photo shoot. It has one strap now.  
FABRIC: Rayon & Silk 
COUNTRY MADE: Italy
SIZE: 42
MEASUREMENTS; provided as a courtesy only- not a guarantee of fit: 
Chest: open, Waist: 30", Hips: 39", Length from neck to hem: 52.5"