S/S 1999 Atelier Versace Runway Sheer Black Mesh Beaded Embellished Gown Dress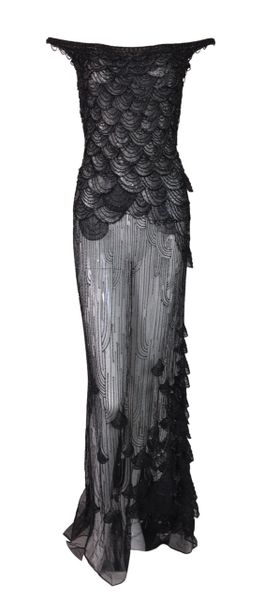 S/S 1999 Atelier Versace Runway Sheer Black Mesh Beaded Embellished Gown Dress
Description
DESIGNER: S/S 1999 Atelier Versace runway- we believe this is the actual dress worn by Naomi Campbell on the runway. This dress is unlined and not labeled and Donatella did not label or line her sheer runway pieces. 
Please contact for more information and/or photos.
CONDITION: Good- Minor wear at the very end of the train. Please see photos. Not labeled as mentioned in the designer section. 
COUNTRY MADE: Italy
FABRIC: Unknown as this is haute couture- likely a nylon/elastane blend. 
SIZE: Custom made runway piece, fits XS/S best, please review provided measurements. 
MEASUREMENTS; provided as a courtesy only- not a guarantee of fit: 
Chest: 28-31", Waist: 22-26", Hips: 31-36", Length: 61" in front & 69" in back