S/S 2001 Christian Dior John Galliano Japanese Arrow Satin Gown Dress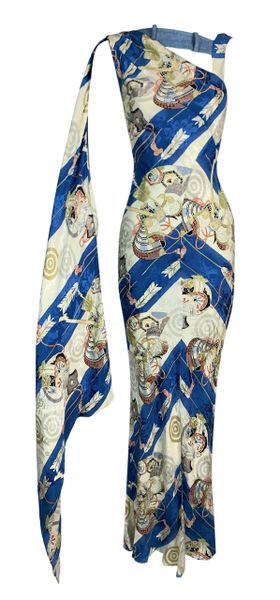 S/S 2001 Christian Dior John Galliano Japanese Arrow Satin Gown Dress
DESIGNER: S/S 2001 Christian Dior by John Galliano- we believe this was a runway sample as you can see where the sticker runway label was removed. The drape can be worn loose down the arm as shown in the first photo or there are clear snaps that hold it over the other shoulder like the other 2 photos. 
Please contact for more information and/or photos.
CONDITION: Good- flawless!
FABRIC: Unknown- likely Galliano's classic Rayon & Acetate blend
COUNTRY MADE: France
SIZE: None- please see measurements
MEASUREMENTS; provided as a courtesy only- not a guarantee of fit:
Chest: 31-36", Waist: 23-30", Hips: 30-44", Length: 62"