2003 Lloyd Klein Haute Couture Sheer Nude Silk Lesage Beaded Crocodile Dress w Choker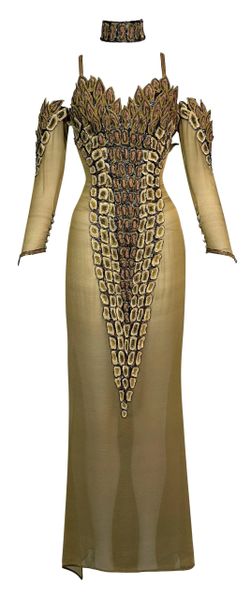 2003 Lloyd Klein Haute Couture Sheer Nude Silk Lesage Beaded Crocodile Dress w Choker
DESIGNER: This dress is a Lloyd Klein haute couture dress he made for his wife in 2003- it was worn for the 13th Annual Christopher Reeves Foundation celebration. It is not labeled as it was made for her but we not only have photos of her in the dress but Lloyd has contacted us directly to confirm he made this dress. This ensemble is a work of handmade art!
Please contact us for more images and/or information.
CONDITION:  Excellent, very minor wear
FABRIC: Silk 
COUNTRY: France
SIZE: None- its a custom made to order dress
MEASUREMENTS; provided as a courtesy only- not a guarantee of fit:
Chest: 34", Waist: 27", Hips: open due to side slits, Length: 55-64", Slits: 37"