F/W 1997 Christian Dior by John Galliano Museum Gold Extra Wide Choker Necklace Earrings & Bracelet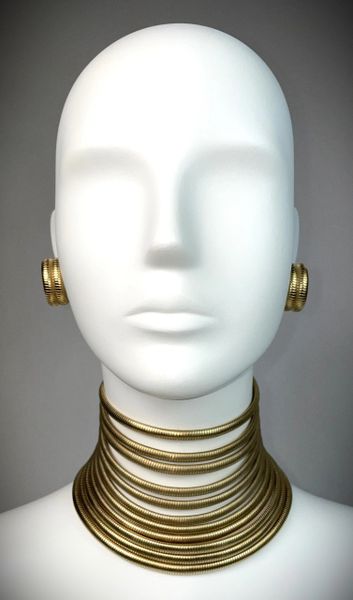 F/W 1997 Christian Dior by John Galliano Museum Gold Extra Wide Choker Necklace Earrings & Bracelet
DESIGNER: F/W 1997 Christian Dior by John Galliano- featured in FIDM Museum. Although the earrings match perfectly they are likely from an earlier collection. 
Please contact for more information and/or photos.
CONDITION: Good- area of wear on inside of bracelet, see last photo
COUNTRY MADE: France
FABRIC: Metal 
SIZE: Extra large
MEASUREMENTS; provided as a courtesy only- not a guarantee of fit: 
Necklace: 13-15" around & 6" wide
Bracelet: 7.5"x1.5"
Earrings: 1 1/4"x1/2"