F/W 1999 Christian Dior John Galliano Gold Renaissance Swing Coat Dress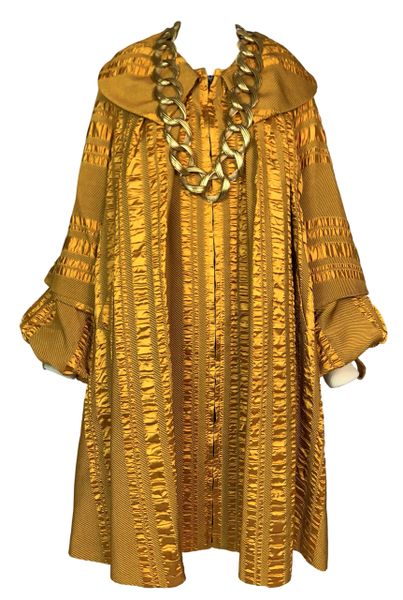 F/W 1999 Christian Dior John Galliano Gold Renaissance Swing Coat Dress
Description
DESIGNER: F/W 1999 Christian Dior by John Galliano- this appears to be a custom piece- similar to coats shown on the F/W 1998 haute couture Dior runway- we are showing it with our F/W 1998 Christian Dior Couture Runway gold chain necklace- also available in our store- not included with this piece. 
Please contact us for more images and/or information.
CONDITION: Good- no holes or stains
FABRIC: No size or fabric tag- hence why we believe this was a custom ordered piece
COUNTRY: France
SIZE: None- a one off haute couture custom piece
MEASUREMENTS; provided as a courtesy only- not a guarantee of fit:
Chest: 66", Waist: open, Hips: open, Swing: 91" around, Length: 38.5", Arms from shoulder to end: 25.5"