S/S 2004 Dolce & Gabbana Runway Sheer Plunging Crystal Corset Gown Dress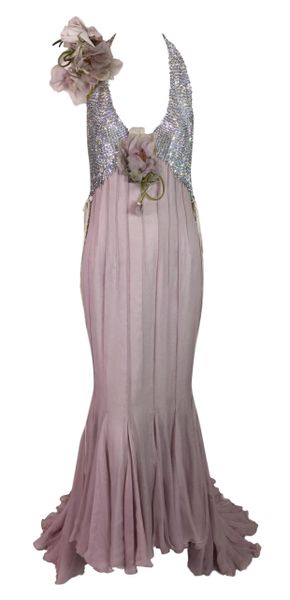 S/S 2004 Dolce & Gabbana Runway Sheer Plunging Crystal Corset Gown Dress
DESIGNER: S/S 2004 Dolce & Gabbana runway
Please contact for more information and/or photos.
CONDITION: Good- the only imperfections on the outside of the dress is a small area of light wear at the butt, and faint discoloration in several areas of the corset ties on the side, but all this is very minor and won't be noticed. On the inside there is an area of discoloration that of course can not be seen and it is square shaped so we believe it is from a sticky type tag was placed there previously.
MATERIAL: No size or fabric tag, possibly couture, silk dress with metal/crystal top.
COUNTRY MADE: Italy
SIZE: No size tag- fits like an XS/S, the corset ties on the sides can be opened allowing for more room in the hip area and to show off some skin!
MEASUREMENTS; provided as a courtesy only- not a guarantee of fit:
Chest: 30" with open back, Waist: 26", Hips: 36" but can be adjusted larger with the corset ties, Length: 58" in front and 71" in back.